Profile on Jane Rowland Bowen - 2003
MEMBERSHIPS: International Porcelain Artists and Teachers, Georgia Porcelain Art Teachers, World Organization of China Painters, WOCP Teachers, WOCP Dealers, Professional Porcelain Artists Association, Porcelain Artists International Online.
CERTIFICATION: International Porcelain Artists' Master Artist and Master Teacher.
PUBLISHED IN: "Southern Living", "Woman's Day", "Athens Magazine", "The Porcelain Artist", "The China Painter", "The China Decorator", "Florist Review", and "Florist Magazine", various newspapers.
PUBLISHED: Book "Consider the Lilies" 1988. Publishes additional studies annually.
PAINTING TECHNIQUE: System of intense painting, usually one fire. Origin of the technique is old, method and materials new. Emphasizes mastery of basic strokes for original work.
PORCELAINS DISPLAYED: World Organization Museum in Oklahoma City, Oklahoma, two pieces in the permanent collection.
STUDIED: Began studying porcelain painting 1974; studied water color, oil, acrylic, drawing, art theory, art appreciation at the University of Georgia and in private instruction.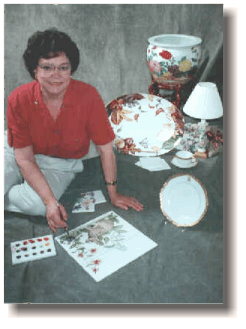 TAUGHT: Began teaching china painting 1976. Porcelain Art Institute, University of Southern Colorado, Pueblo, Colorado 1990, '92, '94, '96 , '98, '00 and '02. Taught china painting and water color on Love Boat cruise, Alaska 1995, taught china painting Brugges, Belgium 1996, Tromso, Norway 1997, various seminars in US.
FEATURED ARTIST: Georgia World China Show 1997 and 2006.
PARTICIPATED IN: Painting a service of china, Georgia Governor's Mansion
COMMERCIAL & COMISSIONED WORK: Paintings, lamps, furnishings, walls, tiles for more than two hundred private residences. Designed for a gift and balloon company: florals, fruits and vegetables, over 150 products. Commercial designs commissioned for reproduction. Hand paint artist for a bath accessory and knob manufacturer, painting and supervising the decoration of more than 250,000 pieces of hand painted porcelain.
Click Here to go to my Order Page and List of Supplies

I recently helped with the restoration of two stained glass windows. These have been reinstalled in the church.
In one window, titled "The Emmanuel Window", I painted the feet of Jesus (for a month) and the robe in the lower 1/4 of the Jesus figure, as well as various fragments in other places. Click here to see a picture of this restored window.
SEMINAR INFORMATION
I am available for seminars on fruits, vegetables, insects, any of the flower studies and landscapes, as well as the basic technique of controlled strokes, but please choose only one subject per seminar.
I charge $250 per day, and can take up to 10 students. Hospitality (food and lodging) will be provided by the host. Travel expense is current government rate. At least three days are preferable for the students' best learning experiences. For moreinformation, please email, write or call, and I will be pleased to reply.
Click here to go to the page with examples of my painting style.