PREVIEW OF PPIO
"MEMBERS ONLY" PAGES
Our intent here at PPIO is to make as much information available about china painting as possible and to that end , we provide our free mailing list (which is a wonderful place to network with chinapainters from all over the world and to get technical questions answered almost immediately) and many good free technical pages located on our website.
However, we also have a members only area which includes our FAQ database (where we archive all the past mail from the mailing list in a searchable format) and our ONLINE LESSONS and an extensive PICTURE DATABASE (which can be used to plan paintings)...
Below is a little preview of what you can expect from our "Members Only" area:
To see pictures of more lessons
CLICK HERE
and to see pictures of our most recently added lessons
CLICK HERE to see a sampling of photos from our NEW photo database
(or scroll to the bottom of this page)

CLICK HERE to get to the two FREE Sample Lessons
(these give you an idea of what the lessons are like in the Members Only PPIO Classroom)

CLICK HERE for information on becoming a member of PPIO
Our Current ONLINE LESSONS:

1918 Color Notebook of Annita Brown
edited by Marci Blattenberger
Notes on color for florals from a china painter's notebook...dated 1918


Lion
by Anne Astorino
lion plate complete with line drawing


Conventions : Part 2
by Alice Wofford
Part 2 of an informative article on how to run a successful convention or show. This covers how to get publicity.
( Scroll down a few rows of lesson thumbnails to see Part 1)

Penwork
by Alice Wofford
a complete lesson on penwork


Penwork Tiger
by Alice Wofford
a continuation of the penwork lesson with the addition of color washes


Cute Baby Birds
by Betsi Lebold
baby birds in 3 fires
Fairy Ornament
by Jean Beebe

an adaptation of a fairy ornament


Recycled China" Jewelry
by Jean Beebe
Using broken pieces of china to create new jewelry pieces


Capturing Spiderwebs
by Jean Beebe
Capturing and using spiderwebs to add to your art work

Winning Entries from the Meissen Trophae Competition
Dresden, Germany, 2001
by Birthe Hattel
a look at some of Birthe's prize winning pieces


Feathers
by Birthe Hattel
painting feathers


Butterflies
by Francesca Boone
Butterflies in the European style

Welcome Sign
by Corliss Decker
Welcome sign with roses


Luster Desert Scene
by Dottie Cosgrove
sunset on the desert in lusters and china paints


Luster Lake Scene
by Dottie Cosgrove
Sunset and pine trees in lusters and china paints
Clock
by Elinor Skiles

clock face with wild roses

Firing your Digital Kiln
by Marci Blattenberger
a primer on firing a digital kiln

Geraniums
by Penny Nangle

Wiping out geraniums...no text

Hummers and Hibiscus
by Joan Shaddy
Hummingbirds with Hibiscus

Working with a Limited Palette
by Gordon Henry
Choosing, Setting up and Working with a limited palette including information on color mixing


Painting Limoges Boxes
by Kim McCool
a step-by-step lesson on painting a Limoges box featuring a horse and rider design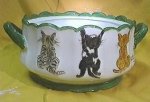 Serving Dish with Cat Design
by Bonnie Crandall
A bunch of curious kitties "hanging out" on a serving piece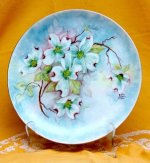 Dogwood
by Bonnie Crandall
spring dogwood on a plate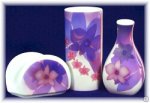 Orchids
by R. Janette Graham
how to design and paint a stylised design featuring Janette's original orchid design

Painting Water Drops
by Penny Nangle
Visual on painting dewdrops....no text


Christmas Cards
by Penny Nangle
painting Christmas cards on paper using china paints...featuring 4 different designs


Portrait
by Aileen McLeod


Cougar Vase
by Evelyn Rolsing
vase with mama and baby cougar using lusters and china paints


River Scenes
by Teresa Lemkemann
Pictures to accompany a previous lesson by Teresa on how to create a painting by using computer software( like Corel Draw )
( to see the original lesson, scroll down a few rows of thumbnails)


Washes
by Marci Blattenberger
What are washes and what do they do for your painting?

Snowflake Plate
by Marci Blattenberger
QUICK and EASY rim plate with snowflakes


Snowflake Plate with Lusters
by Marci Blattenberger
Another QUICK and EASY plate with a snowflake design but this time using luster effects


Apples
By Ann Cline
Ann shows you how to create an exciting painting of the apple and provides many hints gleaned from her experience in teaching and writing about painting this popular fruit.

Luster Poppies
by Betty Gerstner
Painting Poppies in Luster on a small vase.


Tiger Fun in an Aquarium
by Betty Gerstner
Step by Step instructions for painting a tiger playing in an aquarium. Adapted from the "Step by Step" on Betty's web site.

CHICKADEES
by Penny Nangle
Penny shows you how to paint these cute little birds


SNOWBIRD
by Penny Nangle
another nice bird lesson by Penny , easy enough for a beginner

A CHRISTMAS SILHOUETTE
by Teresa Lemkemann
how to paint a silhouette, featuring an original design by Teresa of the Holy Family

MEMORIES OF THE OLD KEROSENE FIRING KILNS
by Ruby Gayle Jackson
Ruby Gayle began china painting in 1925 at the age of 10. Here, she shares her memories about the old Kerosene fired kilns


ORNAMENT With FIBERGLASS EMBELLISHMENT
by Donna Kurtz
This lesson concentrates on application of the fiberglass embellishment

CHECKLIST FOR A GREAT CONVENTION
By Alice Wofford
Things to know about staging a show or convention from Alice Wofford who graciously shares all the information she learned the hard way

HOW TO CUT A ROSE
by Marci Blattenberger
2-part lesson on how to envision a basic bowl rose (part 1-relating a rose to a cup and saucer)


HOW TO CUT A ROSE
PART TWO
by Marci Blattenberger
2nd part of lesson...concentrating on how to shape and cut petals on a basic bowl rose


HOW TO SELECT GOOD QUALITY BISQUE
by Beverly Stone
What to look for when choosing a piece of bisque
PHOTOGRAPHING YOUR CHINA
by Debbie O'Rourke
how to show your china off to its best advantage by getting good quality photographs


FAUX STAINED GLASS
by Penny Nangle
a beautiful "stained glass" panel grape design done in china paints

MORE PAINTING TIPS
by Birthe Hattel
more information from Birthe on penwork, lusters, perforating glazes with sand and more

A ROSE MIX
by Penny Nangle
a beautiful selection of different rose views


FILTERING
by Penny Nangle
Penny explains how to do filtering strokes


BABY ROSES
by Penny Nangle
a visual lesson on baby roses

RASPBERRIES
by Penny Nangle
showing 1st fire coloring on berries and leaves


RAISED PASTE,ENAMEL AND FLOW ENAMEL CROSS
by Gloria Bordeaux Knapp
a lesson on raised paste, enamels and flow enamels


RAISED PASTE,ENAMEL AND FLOW ENAMEL VASE AND PENDANT
by Gloria Bordeaux Knapp
another lesson on raised paste, enamels and flow enamels
CREATING A PAINTING BY USING A DRAWING PROGRAM (CORELDRAW, ETC.)
by Teresa Lemkemann
How to use the tools in your drawing program to make a painting (There is no visual with this)


FISHSCALES
by Marci Blattenberger
using fishscale strokes to add a decorative accent


TeePees
by Joan Shaddy
Joan gives you the steps for painting an indian scene with TeePees.
GRAPES
ONE DESIGN-TWO IDEAS
by Alice Wofford
Alice shows how to paint grapes and also how to completely change the look of the piece by changing the background or adding banding

ORIENTAL PENWORK
"DANCING LIONS"
by Maria Isberg
Oriental penwork technique

ELEGANT GLASS PAINTING
by Birthe Hattel
glass techniques featuring an elegant goblet
MORE ELEGANT GLASS TECHNIQUES
by Birthe Hattel
more glass techniques

ANIMAL TECHNIQUES
by Birthe Hattel
Birthe describes her beautiful stylized techniques for animals

STYLIZED MAGNOLIA
by Birthe Hattel
more of Birthe's beautiful techniques
BEGINNER'S LESSON IN BASIC CHINA PAINTING TECHINIQUES
by Patricia Burt
This is a lesson on china painting techniques for beginners...
above: (a piece painted by Patricia)

WATERCOLOR LOOK USING LAMPOIL
by Jean Beebe
Jean covers some simple ideas using lamp oil as a medium for a soft, watercolor-like effect

HOW TO CUT A ROSE
by Penny Nangle
a visual on how to cut rose petals
LEATHER LOOK
by Donna Kurtz
How to create a faux leather look on china

YORKIE
by Marci Blattenberger
This is a lesson on Yorkies and how to paint fur

SNOWMAN PLATE
by Penny Nangle
an adorable and easy to do plate
SIMPLE POPPIES
by Penny Nangle
a poppy lesson suitable for a beginner

GRAPES
by Penny Nangle
a simple look at grapes and how to form them

COLORS
What NOT to mix
With special thanks to Rose Seivert of Rosebud's Perfection Paints and "The China Decorator" magazine for allowing us to reprint information from articles by the late Joyce Berlew.
FROM this to THIS!
by Marci Blattenberger
The first in a series of lessons on how to improve a painting

SCROLLWORK
by Marci Blattenberger

This lesson puts the finishing touch on the forget-me-not plate (Lesson 1 and 2 of the forget-me-not plate can be found on the LEARN TO CHINA PAINT pages. It covers simple scrollwork and cartouches.

ONE-FIRE IRIS
by Marci Blattenberger

A lesson in a one-fire iris technique that can be used to paint irises of different sizes using one brush. This lesson is also used in the Iris Luster boxes lesson.
IRIS LUSTER BOXES WITH DICHROIC GLASS
by Marci Blattenberger

covers a variety of techniques from marbleizing lusters to working with structure paste, dichroic glass and porcelain fusion....

LEAVES INCLUDING HOLLY AND BERRIES
by Penny Nangle

a lesson on leaves with emphasis on holly leaves and berries

VIOLETS
by Penny Nangle

a lesson on single violets and leaves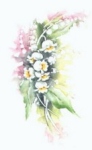 LILY OF THE VALLEY
by Penny Nangle
a lesson on lily of the valley
A sample of photos from our photo database
Full sized versions of these and more available in our NEW picture database
CLICK HERE to learn how to become a member of PPIO
*on-line lessons and lesson pages are the property of PPIO and the contributing artists and may not be reproduced for distribution without permission from PPIO